Restoration, conservation, education
$700,000 and counting...!
Since the founding of our organization in 2016, The Friends of San Juan National Historic Site has generated in excess of $700,000 in support of the San Juan National Historic Site. Our greatest monetary contributions have been in educational programming as well as cultural & visitor development. The global pandemic impacted our ability to raise funds for the park between 2020 and 2021, but we are well on our way to making up for lost time! In fact, by the end of 2022, we expect to reach our goal of contributing $1,000,000! We have some great news on this front and we hope you'll check this page often for updates and announcements!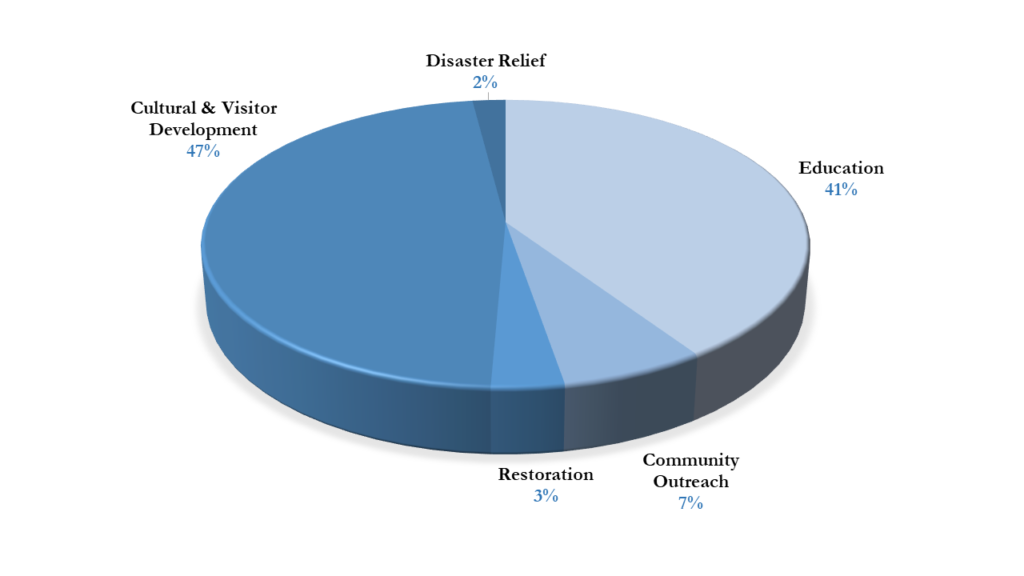 Our organization is composed of a small, but growing group of professionals based in Puerto Rico and in the U.S. We're all busy with our full-time professions, but our love for this island and for its significant history unites us and inspires us to come together and pool our diverse skill sets in order to raise funds and awareness for the San Juan National Historic Site. On our own time, we work towards establishing key partnerships with individuals and companies on the island that share our love for the site as well as our interest in preserving its legacy. When we come together, we introduce new members, we decide how to divert our financial resources, and we collaborate with park staff in prioritizing the park's needs and educational goals. We coordinate regularly with park staff and volunteers when it comes to executing the agreed upon conservation projects or educational programming. On an occasional basis we participate in events located at SJNHS or we host events meant to bring our members and partners together.
The Friends of San Juan National Historic Site proudly supported two consecutive years of the "Every Kid in a Park" program. Our organization received a generous grant from the National Park Foundation to provide transportation for students from all over the island to the SJNHS. The program specifically targeted fourth-grade students and guaranteed them free transportation and entrance to the park. Local teachers collaborated with park staff and volunteers to introduce students to the site and engage them in fun, educational activities while they were on-site.
The program, Every Kid in a Park (EKIP), now referred to as Every Kid Outdoors, was part of former U.S. President Barak Obama's commitment to protect our nation's unique outdoor spaces and to ensure that every American has the opportunity to visit and enjoy them. The program, over the course of its two years, was a call-to-action for children to experience America's spectacular outdoors, rich history, and diverse culture. The grant that we received was also part of the National Park Foundation's Open Outdoors for Kids program. This grant, along with other funding, allowed the Park to pay for the transportation costs associated with getting fourth-graders to San Juan. Some students came from as far away as Cabo Rojo and Vieques.
The Friends of San Juan National Historic Site proudly supported a new initiative to restore and protect one of San Juan's most iconic sculptures. The sculpture, known as La Rogativa, is located in the Plazuela de la Rogativa in the Caleta de las Monjas and very close to the famous Puerta de San Juan.
The monument commemorates the occasion of April 30th, 1797 when British troops, led by Sir Abercrombie, took control of the city by means of a naval blockade. Desperate, the city's governor ordered a "rogativa," or a large procession intended as a prayer or supplication to God for assistance in their current crisis. The bishop and women of the city processed through the streets at night carrying torches, singing hymns, and praying for the salvation of their city. The British mistook the lights and noise emanating from the streets as evidence that reinforcements had arrived and outnumbered their own forces. As a result, Abercrombie's fleet left the port! La Rogativa had stood sentry over the historic seaside walls of San Juan for more than 46 years without any maintenance whatsoever. We provided financial support for specialists to clean the bronze, wax it, and re-apply an appropriate patina.
500 YEARS OF SAN JUAN & 250 YEARS OF BEETHOVEN
The Friends of San Juan National Historic Site teamed up with San Juan National Historic Site and the International Chamber Orchestra of Puerto Rico to present a unique festival celebrating our city's history and the incredible influence of Beethoven's music. Castillo San Cristóbal's tunnels and casemates were flooded by Beethoven's classics thanks to the International Chamber Orchestra of Puerto Rico's master presentation in January 2020. This event comprised the Chamber's 5th edition of the festival and they succeeded in delighting a public of over 800 spectators in Castillo San Cristóbal's Main Plaza. The event was completely free of charge and open to the general public. Led by Puerto Rican cellist, Emilio W. Colón, the Orchestra is composed of 40 musicians from 15 different countries. The group also toured other municipalities across Puerto Rico. We had a blast and we can't wait to team up again!
The Friends of San Juan National Historic Site hosts exclusive events for our corporate partners who, in turn, continue educating their own clients and guests about the historical and cultural significance of SJNHS. Events often include unforgettable evenings complete with customized tours, dining, and dancing under the stars! We go beyond even this though and can help your company or organization set up a special event, wedding, concert, or fundraiser against one of the most picturesque and historical backdrops in the Caribbean. Get in touch with us to find out more. That is not all, of course! We also participate in wider, city-organized or park-organized events that celebrate the site's position in world history, in Puerto Rican history, and its inclusion in the National Park Service.
NATIONAL PARK SERVICE'S CENTENNIAL ANNIVERSARY
During 2016, San Juan National Historic Site celebrated the 100th anniversary of the National Park Service! The park organized a series of public activities throughout the year, especially during the summer, that invited visitors and locals to partake in the park's invaluable resources and intense beauty. Artisans, activists, musicians and experts came together to promote local talent and organize family-oriented activities like a "Fun Run," ranger-led programs, educational activities, concerts, demonstrations, and more. The Friends of San Juan National Historic Site had only recently coalesced as a non-profit organization at that time, but we set up tables and spread the word about our burgeoning mission.